Nendo Triangle Roomshoes
Is Nendo Onto Something Or?
Japanese design studio Nendo, has decided to redesign the whole silhouette of a slipper. What is officially known as the Nendo Triangle Roomshoes look exactly like what a gnome would be trotting around in. A simple triangle silhouette slip-on.  With many cultures, particularly Asian cultures switching into slippers at the doorway this could be a very convenient options for households.
Cultural Functionality
The Nendo Cone slippers come with a great emphasis on functionality. When stacked upright like a wizard's hat, people have the option to conveniently stack the shoes upright. Thus reducing the need for shelving and reducing space usage in an efficient manner. I'm sure many could find great benefit to this in Asia, where I personally know many have closet wardrobes and shoe racks overfilling with visitor slippers to use.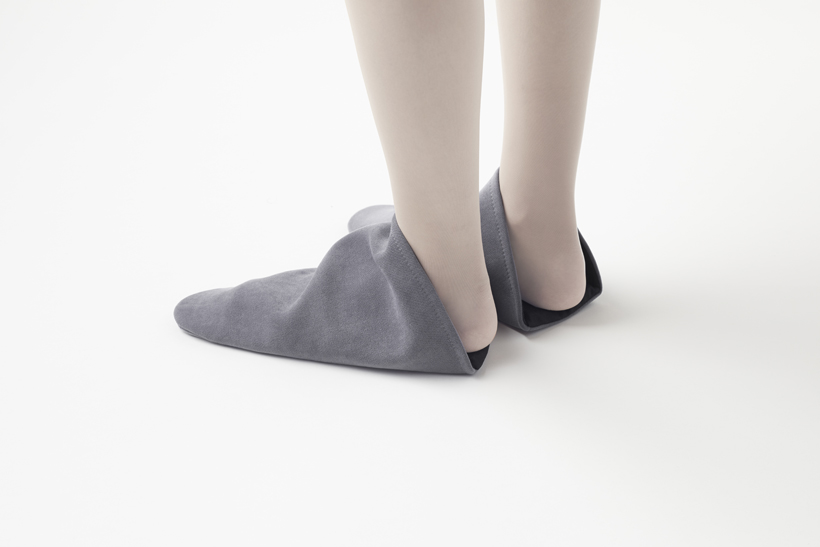 For the user, functionality was the main goal. This is something Nendo's design studio seems to consistently amaze us with. Looking at the slipper you would think your heel would probably be hanging over the edge. Due to the technical nature of this simple shoe, Nendo designed the slipper to fold around the instep area of the foot. Leading to a better overall fit on the foot. However, I'm sure you will not find these the most anatomically supportive design for your foot.
Nendo also took a heavy look into the materials utilized in developing the shoe. The Nendo Triangle Roomshoes will be available in both a synthetic leather and polyester material. This solves comfort, pricing, and ease-of-use around the house. Pricing is currently sitting at $35 a pair in their homeland country of Japan as they are not available elsewhere in the world…yet. With four color choices, I find the Nendo Cone Slipper, or "Triangle Roomshoe" to be a creative option to the standard slipper. However, this is something that could be produced at home or found elsewhere for a cheaper price. Moroccan slipper ring a bell? Take your pick.
Images Via: Nendo.jp