Looking for Hidden Attractions and Sites Outside the City of Dalian?
Check Out These 3 Hidden Attractions of Dalian
Known as the northern Hong Kong of Asia, Dalian is a vibrant, coastal city right on the Bohai Sea. As a popular summer destination in China for its glowing beaches and delicious seafood, Dalian has a plethora of touristic hotspots. This includes Xinghai Square ( the largest open square in Asia), Little Venice Harbor, Russian Town, and the Castle Hotel. Having lived in Dalian for half a year, I can tell you that there are hidden gems outside these sites that are well worth a visit. Of course, check out the main attractions and enjoy the beaches, but if you want to witness some other beauties then check out these 3 hidden attractions of Dalian. If you are one who especially enjoys the outdoors and scouting out local mysteries, then you'll be sure to enjoy these sites.
The 3 Hidden Attractions of Dalian
Little Black Mountain and Big Black Mountain (小黑山和大黑山)
Hengshan Temple (横山寺)
Tongniu Ridge(开发区铜牛岭)
Little Black Mountain and Big Black Mountain (小黑山和大黑山)
The first of the 3 hidden attractions of Dalian happens to enclose two locations. As Liaoning has plenty of beautiful, outdoor scenic points to check out, Dalian happens to have two great hikes. For locals two of the most popular mountains to hike are Little Black Mountain and Big Black Mountain.
Little Black Mountain
For Little Black Mountain, I joined a small, local tour group and went by bus to the site. The bus ride is a bit long taking around an hour to hour and half from Dalian. It is much farther past Big Black Mountain and is not reachable by subway. The entrance of Little Black Mountain looked like a summer tourist hotspot's main entrance with plenty of gates and parking spots. Little Black Mountain is around 7 km from top to bottom making it around a half day hike. Some people have said they enjoy this mountain more than Big Black Mountain, but I will disagree on this.
There are hardly any food or drinks stands, so make sure to bring your own batch of supplies. Throughout the trail are multiple rest spots and the path is pretty easy to ascent. There are a few areas where you will come across some steep steps. Once you arrive at the top, you'll find a nice resting area with "railing" encompassing the whole area. Snap some shots from the high viewpoint and you'll be on your way back down. The path down seemed just a tad bit more difficult in terms of the structure of the path.
Big Black Mountain
Big Black Mountain is really where it's at. As there are multiple ways to get there from Dalian, I would recommend finding a public transport route to get to the Line 3 subway line. The Line 3 takes you up north of Dalian to an area known as Kai Fa Qu which is the "development zone" area for Dalian. Many foreign business in the region are located in this area. After you get off the Development Zone stop, find a taxi who can take you up there for around 30 RMB. It should take about 15 minutes.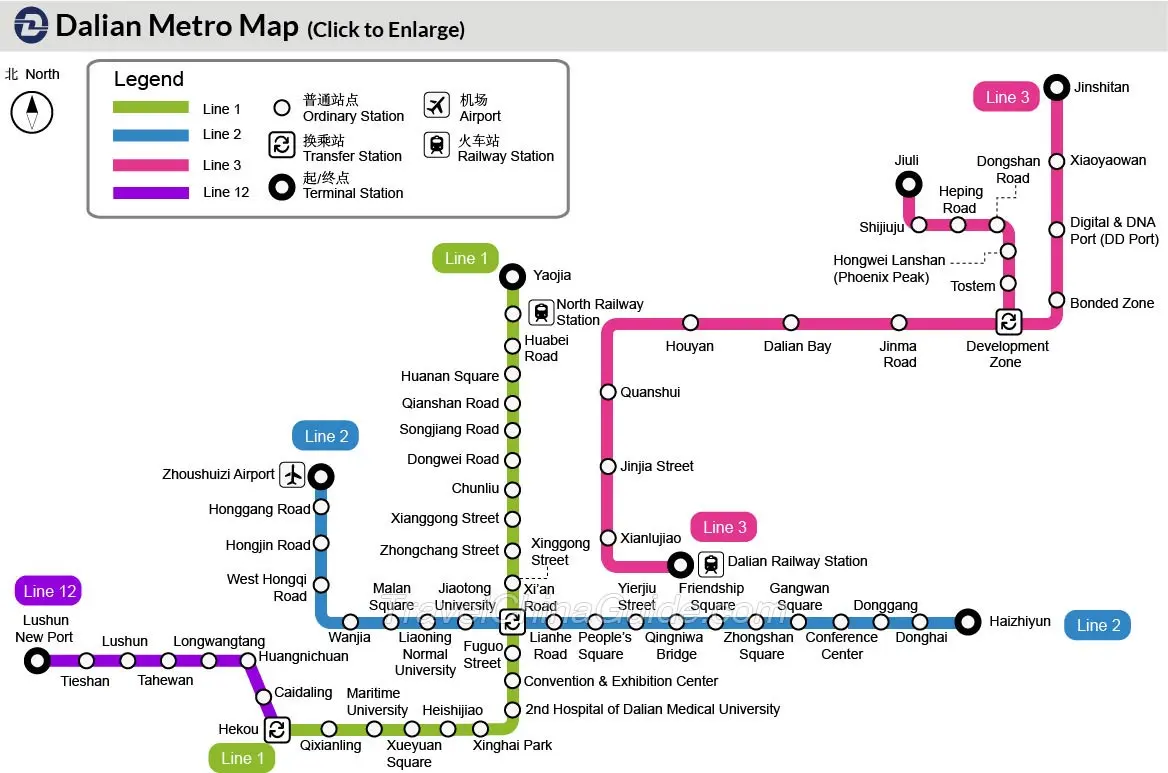 If you haven't gotten a hiked in in a minute, then you may want to warm up somewhere else first before this hike. Being the tallest mountain in the Southern Liaodong Peninsula, Big Black Mountain literally has close to a couple thousand stairs. Once again, pack some snacks and drinks as you prepare to ascent.
There are multiple ways to go about hiking this mountain, so pick a location on your map and wander as you wish. I started on the southeast end with an entrance that had multiple temples. Big Black Mountain's trail guides you a little better than Little Black Mountain. Once you get a glimpse of the map of the area, it'll really start to sink in at how large the mountain really is. From multiple temples perched up top, to countless scenic viewing points, you can easily spend a day here if you want to hit every spot.
I was here during the Fall and the colors were beautiful. The scenery was filled with mixtures of yellow, red, and orange. Big Black Mountain has tons of rolling hills and you can get some great shots of some temples scattered throughout. Enjoy each stop as it's really worthwhile to take in the scenery and each of the temple sites. It's almost like a maze walking up as there are a variety of roads you can explore.
Eventually you'll get to one of the main areas about halfway up the mountain where there will be trinket stands and some snack stands. Most people seem to stop here to eat and relax for a bit, before deciding if they are to climb up further or take the pathway down around the mountain. If you still have it in you, keep the momentum going and continue the journey up! The next 500 or so steps up to the peak of the mountain are the steepest. Get by with the handrail they give you as you jostle up the narrow steps with people from both directions. It was also quite windy when I went up so expect the peak to be a bit whispy.
The views from the top of Big Black Mountain have to be the best nature viewing points in all of Dalian. You can literally view all the surrounding districts of Dalian, the harbors, the termite hills scaling the cities, and hopefully a clear blue sky (if you're out on the right day). Get some clear Panorama shots and check out the nice trail from up top. You'll also witness what looks to be some type of military base encampment. Who knows if it's still operating, but a unique designation for sure.
After taking in all you can, you're ready for the long way back down. If you are at this point the only way back down is to follow the steep, road down around the mountainside. If you came with a car or bus then lucky you, otherwise it will probably be a good 30-45 minute walk down. Eventually you'll reach the opposite entrance of the mountain where you'll see plenty of local famers. Hopefully you can find a taxi out here as public transportation is not in the vicinity on this entrance. Otherwise, you'll be in for a bit of a trek walking back to find a taxi or local bus stop to get you back.
Hengshan Temple 开发区
铜牛岭
Hengshan Temple sits between the west side of Dalian and the peninsula's southern-most city in Lu Shun. Originating back from the Han Dynasty, Hengshan Temple will be one of the oldest historical sites in the area. The city of Dalian itself doesn't have much in the form of temples or Chinese cultural sites as it is a fairly new city for Chinese standards. So, if you are hoping to experience "Old China", then Hengshan Temple will be a pleasant addition to your list.
Dalian has been expanding its upon subway system for a while, thus making it extremely convenient to get around city's surrounding areas. From where you are located, you will have to board the Line 1 and take it west till you've arrived at the Hekou stop. Once there, jump across the ramp and transfer onto the Line 12 heading to the Lushun New Port stop.
Just think green line to the purple line and you should be headed in the right direction. The Line 12 is a lengthier line and will take a little less than a half hour to get to the Huangnichuan station. Get off at this station and get ready to accept a private taxi at an agreed upon price to take you up. There aren't any regular taxi's here, but you could see your Didi options as well. I paid around 30 RMB for a guy to take me up. .
Once at Hengshan Temple, you will be greeted by a serene surrounding with open ponds and winding paths zigzagging throughout the area. It's a pleasant stroll and you should be able to snap some pretty memorable shots. As you progress up the hill you should be able to get a glimpse of the golden statue. That will give you an idea and first glimpse of the Hengshan Temple area.
Hengshan Temple was restored back in 2003. This is why it looks well-maintained compared to other historical sites you may have seen in China. The layout is beautiful and easy to follow. Once you get to the top, you'll find the golden statue and surrounding prayer halls. You can also get some nice views from the sides looking down. This is basically all there is to Hengshan Temple, but it is definitely worth a quick visit to.
Tongniu Ridge(开发区铜牛公园)
You probably remember hearing the name earlier in the post, Kaifaqu is where Big Black Mountain is located near. As the development zone of Dalian, it does embed some of the lesser-known gems to tourists outside of Dalian. The next one is Tongniu Park.
Once you're in Kaifaqu you can take the public bus directly from the subway station to Tongniu Park. The #1 bus will take you there within a few stops. The park is humongous. It kinda just looms over you with its rolling hills with no end in sight. Simply follow the pathway up as it's very straightforward and you'll see the main entrance. The map is a bit confusing, but you'll get the idea once you start following the pathways.
As soon as I got in and saw the first sculpture, I thought Alice in Wonderland. I don't know why but the park seems to give off this fantasy-like vibe with its random sculptures and oddball vibe to it. The more you walk through the more you really start to wonder who they hired to design this place. From bird cage structures and giant monkeys, Tongniu Park definitely has a unique essence to it.
However, once you pass through the front section the park it gradually becomes more like a traditional park. Of the 3 hidden attractions of Dalian, there had to be at least some completely randomness right? The next main attraction of the park really gives Tongniu Park the randomness that it resonates, an alien tower. Yes, an alien tower that you can walk within and stargaze from. Some visitors may have heard about the alien tower in Dalian, but never actually knew where to locate it. It's definitely deep within Tongniu Park. Buy a 20RMB and get some nice views in front the space pod.
The last part of Tongniu Park is where the boy on the flying bull statue is located at. This is the statue that the park's name originates from. Once again a very random sculpture, but actually a creative and eye-catching piece of work. At sunset it looks pretty epic and once you get up close to it can see how large the thing is. From the UFO tower you will just go down a couple ridges and follow the wooden pathway that leads to the sculpture.
Recap 3 Hidden Attractions of Dalian
If you've got some time to fill in your itinerary when visiting Dalian, any of the 3 hidden attractions of Dalian are worth a visit. From traditional historical sites and UFO towers, these sites are unique in their own ways. If you find any other hidden gems throughout the Dalian area please feel free to share! It's always exciting to hear what other discoveries people may come across on their adventures!